2005 P.B. Wood Golf Tournament benefits Southern Wesleyan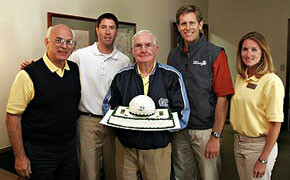 Golf tournament sponsors and players pause with SWU's golf cake, presented to WYFF in appreciation for the participation of local celebrity WYFF sportscaster Geoff Hart. From left are David Spittal, president of Southern Wesleyan University; Robert Halfacre, commercial lender of First Citizens Bank in Clemson; P.B. Wood, faculty emeritus at Southern Wesleyan University and event organizer; Hart; and Elaine Watkins, Central branch manager for First Citizens Bank.
Golf teams teed off at the Pickens Country Club for Southern Wesleyan University's annual Paul B. Wood Golf Tournament, sponsored by First Citizens Bank.
"We had a record number of teams this year. The weather was chilly, but the golfers really enjoyed the day," said Erin Fellers, Southern Wesleyan University development associate.
Members of the first place team were Kevin Cox of Liberty, Bill Benton of Birmingham, Kevin Patterson of Easley, and Thomas Garrett of Clarksville, Ga. Each player on the first-place team received TaylorMade RAC OS series irons with steel shafts.
The second-place team included P.B. Wood of Central, Glenn Simpson of Pickens, and Pete Wood and Dan Wood, both of Central. They won TaylorMade Rescue Mids.
Third-place team members were Fred Keith, Doug Tooke, Mike DeShields and Doug Edwards, all of Easley. They received Rac Black Wedges.
Other prize winners included Mike Kaplan of Cornell Dubilier Marketing in Easley for the longest drive. Todd Henley of Simpsonville, Glenn Simpson and Dan Wood won the closest to the pin contests. Scott Dover of Pickens won the grand prize raffle for a weeklong stay at Myrtle Beach.
This year's celebrity golfer was Geoff Hart, WYFF News 4 Sports Director.
Proceeds from the Paul B. Wood Golf Tournament benefit The Promise Fund – the Annual Fund for SWU.
"The money we raise from our annual golf tournament directly benefits students at Southern Wesleyan University by providing scholarships and academic and program support," Fellers said.
Next year's tournament will be at the Pickens Country Club on Oct. 23, 2006.
The tournament is named for Dr. Paul Wood, a psychologist and professor emeritus at Southern Wesleyan University.
For details, contact Southern Wesleyan's Office of Development at (864) 644-5006 or 1-800-282-8798, ext. 5006.