2013 news highlights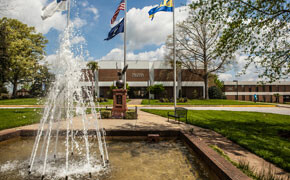 The year 2013 was one of exciting new developments for the SWU community. The year was marked by expansion of online degrees and a strong Warrior spirit, evidenced by a new logo and new mascot, NCCAA championships and progress toward NCAA Division 2.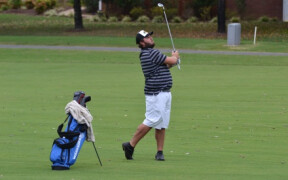 Warriors making their mark in the NCCAA
SWU golfer Zach Moore earned the title of NCCAA national champion at the championship played at The Hombre Golf Course this past October. In December, the Men's Soccer Team claimed the NCCAA National Championship in Kissimmee, Fla., after defeating Lee University 1-0. Also, the NCCAA named Camilo Rodriguez 2013 Men's Soccer Coach Coach of the year.

SWU athletic facilities are expanding
This past October, SWU dedicated the P.B. Wood Golf Practice Range, in honor of a longtime member of the university's staff and faculty emeritus of psychology – and avid golfer. At the close of 2013, the university put finishing touches on its new track and soccer complex, located near the SWU entrance at S.C. Highway 93. Other improvements include extensive improvements to Varsity Field, home of the softball team, which include a new locker room and new restroom facilities, as well as a new press box.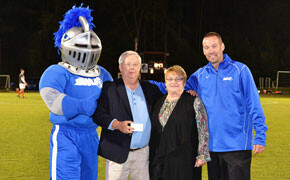 Warriors take on a new look
In January, SWU rolled out its new logo, a classic helmet emblazoned with a cross – a symbol of strength and character. The new Warrior mascot made his debut during Homecoming this past October, Doing the honors was Bob Cooley, a SWU graduate who was the original mascot in 1970.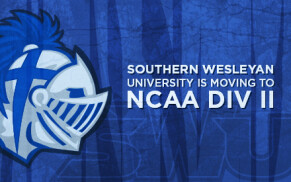 SWU approved for NCAA membership
SWU announced approval by the NCAA to move ahead towards membership in Division II and to join Conference Carolinas during a press conference Sept. 23 on the campus in Central.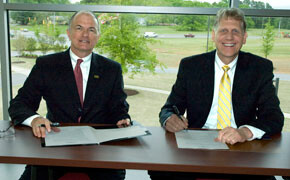 Four-year degrees coming to Easley
Tri-County Technical College President Ronnie Booth, left, and Southern Wesleyan University President Todd Voss signed an agreement May 1 that will bring four-year degree programs to the Easley area.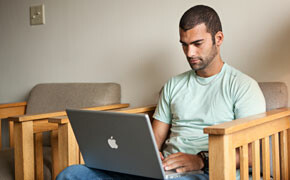 New online business, education degrees announced
SWU began rolling out fully-online degree programs in early 2013, beginning with an associate in general studies degree, with bachelor's and master's degrees in business following closely. Later in the year, the university announced a fully-online master of education degree in classroom leadership, projected to begin in March 2014.

SWU dedicates challenge course
On March 25 Southern Wesleyan University dedicated a new challenge course, which literally takes leadership education into the woods. Social Science and Religion majors took part in the dedication ceremony in a wooded portion of the Central campus.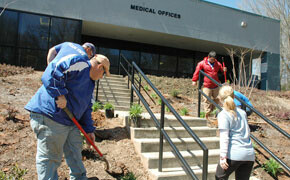 Day of Service
Approximately 200 volunteers from Southern Wesleyan University reached beyond the Central campus into surrounding communities in an effort to make a difference during a day of service.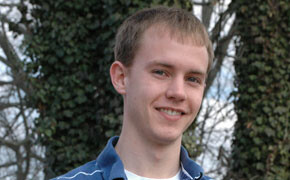 SWU student recognized by GSA Business
Curtis Todd, a computer science major, was highlighted in the Feb. 25 - March 10, 2013 issue of GSA Business as one of 13 "20 somethings" not letting age get in the way of their entrepreneurial visions.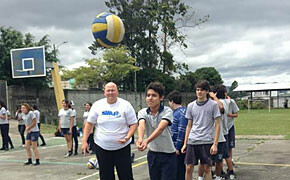 Volleyball Team serves in Costa Rica
Members of the Lady Warriors Volleyball team traveled to Costa Rica, where they taught skills to young players at a volleyball clinic, shared their testimonies and bought food for a ministry to single mothers.