2014 'Camp Invention' offers learning disguised as fun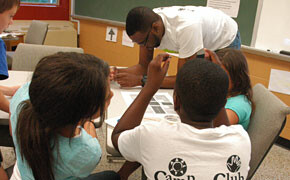 Sign up now for innovative camp at SWU June 16-20 featuring innovative real-world challenges!
Camp Invention, a summer day camp full of "real world" challenges with a fun twist, is returning this summer to Southern Wesleyan University.
In partnership with Invent Now Kids, Southern Wesleyan University is offering the nationally-acclaimed, week-long camp for children entering grades one through six, beginning June 16 and running through June 20 on the university's campus in Central.
This summer day camp will immerse children in imaginative play that reinforces and supplements school year learning through inquiry-based activities in science, technology, engineering and math.
Camp Invention offers hands-on activities where children will learn about subjects ranging from ecology to technology. This summer's all-new program, "Morphed!," combines the creation of an insect-themed pinball machine with challenges from renowned National Inventors Hall of Fame Inductees and so much more.
For details, contact Dr. Lavinia Anderson by emailing The registration fee includes a Camp Invention T-shirt. Availability is limited, so visit www.campinvention.org or call 800-968-4332 to reserve your child's spot.
Camp Invention is made possible through partnerships with Duke Energy, Motorola Solutions Foundation, Nordson, Dow Corning Foundation, AIPLA, Livingston and Haven, the United States Patent and Trademark Office and Invent Now Endowment.
Southern Wesleyan University is a Christ-centered, student-focused learning community devoted to transforming lives by challenging students to be dedicated scholars and servant-leaders who impact the world for Christ.