2014 Summer Jazz at SWU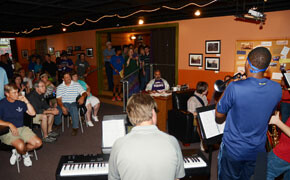 One of several groups from Southern Wesleyan University's summer jazz camp performs for an audience at Main Street Deli in downtown Central.
The jazz camp, where young musicians learned improvisational instrumental skills from an elite group of jazz musicians, took place June 17-21 at the Central campus. The camp hosted 46 participants ages 13-65 and from as far away as Chapel Hill, N.C. The camp also offered live performance experiences on the concert stage and smaller venues. There was also a recording session in a professional studio. The camp is in its 14th year at the university.
Southern Wesleyan University is a Christ-centered, student-focused learning community devoted to transforming lives by challenging students to be dedicated scholars and servant-leaders who impact the world for Christ. For details about degree programs, go online to swu.edu.