A taste of Broadway at SWU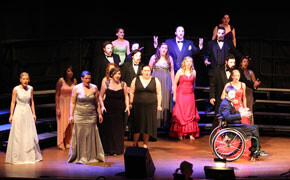 Southern Wesleyan University students performed a variety of Broadway melodies during the "Pops" Concert, which returned to the Central campus April 26.
Featured were medleys from "Phantom of the Opera" and "Les Miserables," along with soloists, duets and small groups performing other Broadway favorites. The event was part of Southern Wes­leyan University's annual Fine Arts Series at Newton Hobson Chapel and Fine Arts Center.