Accepted Student Day at SWU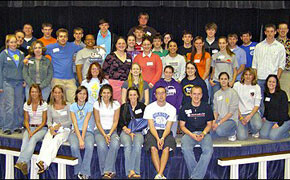 Students who will attend SWU for the first time this fall participated in Accepted Student Day recently at the university's campus in Central.
Southern Wesleyan University's first-ever Accepted Student Day was March 18.
Incoming freshmen and transfer students who have been accepted for the 2006 fall semester were invited to campus for an event designed especially for them and their families. More than 150 were in attendance as the spring day kicked off with greetings from Dr. David Spittal, university president.
The students participated in team-building exercises with Dr. Rodney Blackman and SWU recreation majors. This gave the students an opportunity to get to know each other better.
While the students were having fun in the gym, Dr. Spittal gave the parents and guests a historical walking tour of the campus, highlighting Intercession Square, the Warrior statue and Freedom's Hill.
The accepted students took a tour of their own, though not a guided tour. They learned their way around campus by participating in The Amazing Race Scavenger Hunt, where they received clues to find destinations around SWU. During the scavenger hunt, the students took pictures of their group at each location.
Parents had the opportunity to have their questions answered at a round table discussion with the academic deans.
After lunch with current students, faculty and parents of current SWU students, everyone attended the Community Fair held in Founders' Hall. This was an opportunity for parents and students to see the services available in the surrounding area such as churches, banks, restaurants and retail centers. Here, they could finalize their housing choice, make arrangements with the business office and talk with the Financial Aid department.
To end the day, students and parents were treated to a movie slideshow in Folger Fine Arts Auditorium of the day's events and the announcement of the scavenger hunt winning team.
A senior from North Atlanta high school who attended this event said, "I had such a fun filled day! I feel like I am already attending SWU. I had a chance to meet some of my peers and faculty. I got to see the campus and spend time with the friendly people there at SWU.
The Admissions office is planning another Accepted Student Day for May 20. Click here for more info about enrolling at SWU.