Accepted Students Day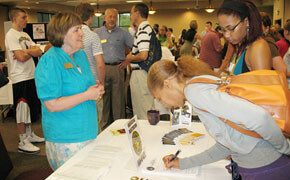 The Admissions Office welcomed 135 guests to the final Accepted Student Day of the summer June 20.
New freshmen and transfer students and their families enjoyed a departmental fair and scavenger hunt, complete with a campus tour for parents with Dr. David Spittal. Accepted Student Day is an opportunity for incoming students to connect with their classmates and individuals on campus prior to the start of the academic year.