Andrews honored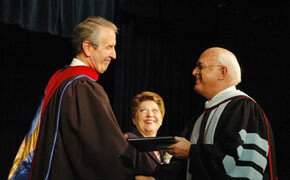 Dr. David Spittal, right, president of Southern Wesleyan University, presents Rev. Fred Andrews with an honorary Doctor of Divinity degree as Andrews' wife Sondra looks on.
Southern Wesleyan University has awarded Rev. Fred Andrews, senior pastor of First Wesleyan Church in Central, S.C., a doctor of divinity degree, honoris causa.
Dr. David Spittal, Southern Wesleyan University president, praised Andrews as a servant leader, a dedicated pastor, a district leader and a mentor to many of the university's ministerial students.
Andrews spoke at baccalaureate chapel May 8 on the university's campus in Central, S.C. After Andrews' address, Dr. Spittal presented him with the honorary degree.
"Rev. Andrews' ministry and service to the local, church, district and denomination has been significant," Dr. Spittal said. "There is no one whose ministry and life has demonstrated a more caring servant heart, love for his people and a willingness to stand with them during their most difficult time than Rev. Fred Andrews. Throughout his ministry he has been a servant leader, a dedicated pastor, a district leader and has mentored and counseled many of our university ministerial students who have sought to pursue their own call to God's call in their life and ministry. "Most significantly we honor you for the way you have shared the love of Jesus Christ with everyone who has been influenced by your ministry and been fortunate enough to experience your care," Dr. Spittal said.
Andrews' full-time ministry began in 1971 as a missionary to Sierra Leone, West Africa, where he served as a teacher in the Bible College near Freetown. In 1972, he became principal of the Bible College until 1974, when he and his family returned to the United States. After a year as assistant pastor for the First Wesleyan Church in Randleman, N.C., he and his family returned to Sierra Leone for a three-year term of service and teaching at the Bible College. Medical issues required their return to the United States and, in 1977, he assumed responsibilities as assistant pastor for First Wesleyan Church in Central, S.C. After six months, he was called to serve as senior pastor for the church, a position he has held since 1978. Andrews recently announced he will step down from his duties as senior pastor to become pastor of congregational care on July 14.
In 2003, Southern Wesleyan awarded Rev. Andrews with the Virgil A. Mitchell Excellence in Pastoral Ministry Award. He has served as a member of the District Board of Administration and the District Board of Ministerial Development.
Andrews earned a bachelor of arts degree in biblical literature from Southern Pilgrim College in 1966 and enrolled at Appalachian State University, where he completed certification requirements in elementary education and later earned a bachelor of science degree in 1968. He earned a master of divinity degree at Asbury Theological Seminary in 1971.
He and his wife, Sondra, have two daughters and four grandsons.