Augusta IT professional realizes potential through education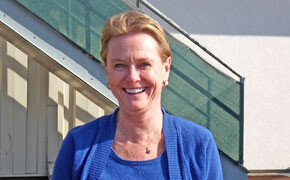 SWU MBA student Kathy Bongard is a senior IT manager for Enterprise Resource Planning at EZ-GO.
Kathy Bongard takes her role in corporate Information Technology seriously, but she is also passionate about motivating others.
Bongard is a senior IT manager in charge of Enterprise Resource Planning (ERP) Data Migration at E-Z-GO. E-Z-GO is a Textron Inc. company and a leading global manufacturer of golf cars and light-transportation vehicles.
She works to maintain the quality and integrity of the business data required for E-Z-GO to effectively run its operations, ensuring a smooth transition to a new ERP System.
Bongard learned of the E-Z-GO job opening while working in Sacramento, Calif. Having grown up in Harlem, a rural town near Augusta, she felt the opportunity was great professionally and would bring her closer to home and family.
She also knew that education was key to moving forward but wasn't sure about how to balance her personal and professional responsibilities with being a student.
"I will never forget the day I visited Southern Wesleyan University's North Augusta location to inquire about their adult program," Bongard said. "I almost left without signing up, but they convinced me that they truly understand the needs and commitments of working adults."
Bongard went on to earn both associate and bachelor's degrees at Southern Wesleyan University and is currently enrolled in its Master of Business Administration program.
"She has worked at E-Z-GO for a number of years, and has experienced positive results there as a result of her degrees and work done within her classes that she could also apply to her workplace," said Becky Lam, enrollment representative at the North Augusta Education Center. Lam added that Bongard serves as a great "unofficial ambassador" for Southern Wesleyan, enthusiastically referring other prospective students to the university's adult evening program.
Bongard credits her husband, Joe, with being supportive of her career and educational goals.
"What I enjoy most about my work are my relationships and the opportunity to motivate and inspire others in an effort to successfully execute the strategic objectives of our business," she said. Bongard appreciates Southern Wesleyan's commitment to providing intellectual training and leadership development – all in a Christian environment. She hopes to use that passion and her experience by teaching others in the classroom someday.
Through its Adult Evening program, Southern Wesleyan University offers classes across South Carolina at its education centers in Central, Charleston, Columbia, Greenville and North Augusta. Classes are also offered in Greenwood and Spartanburg. Select programs will soon be available online.
Southern Wesleyan University is a Christ-centered, student-focused learning community devoted to transforming lives by challenging students to be dedicated scholars and servant-leaders who impact the world for Christ.