Business, community leaders 'do lunch' at SWU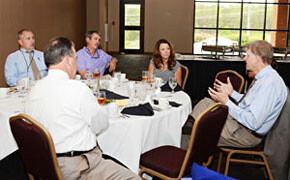 SWU President Todd Voss, right, shares the university's vision with area business and community leaders during a MCPC (Manufacturers Caring for Pickens County) luncheon May 21 on the Central campus.
Pictured from left are Danny Merck, School District of Pickens County superintendent; Jim Shelton, SWU regional director of recruitment services – Central and vice chair of the School District of Pickens County board; Ed Martin, owner of MST Concrete and member of the SWU board of visitors; and Linda Bacigalupo, owner of Tri-Tech USA. MCPC reaches out to the Pickens County community to enhance, develop and enrich socioeconomic values and conditions to higher levels.