Business student authors inspirational book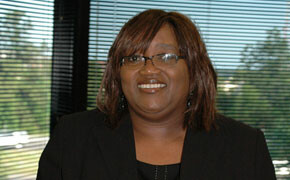 Beverly Fludd Brown
During the journey down life's road, there are often rough spots and detours.

For Beverly Fludd Brown, a business student enrolled at Southern Wesleyan's Charleston location, God used these challenges to help her focus on her destiny and to subsequently provide encouragement to others. That encouragement came in the form of a book, which she recently published. "It is So – Fulfilling your God Given Destiny," is a book of Brown's poetry and words of encouragement that offers readers hope based on God's promises.
"At that time, SWU was one of the few colleges here that had adult classes," Brown said, adding that the business degree program fit perfectly into her busy schedule. Brown is currently a supervisor of registration at the Medical University of South Carolina, where she has been employed for 17 years.

"My book is basically about some of the struggles that I have had to overcome to be able to realize I have destiny and purpose in God," Brown said. Just as she learned to understand her true value as a human being, Brown felt led to help others understand that they have value. She began writing several years before the book was published.

"It was a few years before it was the right season for it to be published. I believe that we have to be led by God when it comes to things like that, so it was 2007 before it actually took off," said Brown, whose book was released by Tate Publishing and reached the shelves of Barnes and Noble, Books-a-Million and Christian bookstores in the Charleston area. "It is So" also became available online through Amazon.com and other sources.

"It has always been a desire of mine to write," Brown said. "I used to go in different stores and dream of seeing my book in the store. Now, to be able to see it, I can't even explain how it feels."

Since the book has been published, Brown has heard from several people who read the book and were impacted by it.

"Everybody who has read it – it has done something different for everybody. I've heard nothing but positive things and it has been such encouraging feedback for me to go on to my next project," said Brown, who has already started writing her next book.