News
Filter By:
Grouped by: Education
Christy Vaughn was named Teacher of the year for 2010-2011 by her peers at Gettys Middle School in Easley.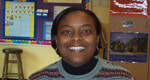 Lisa Gilliard was named 2008-2009 Teacher of the Year at Grove Elementary School in Piedmont.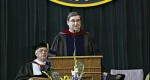 Dr. Bob Black, religion professor and author, tells Southern Wesleyan University graduates about the institution's challenges and triumphs, as President David Spittal looks on.