Christian singer, songwriter performs at SWU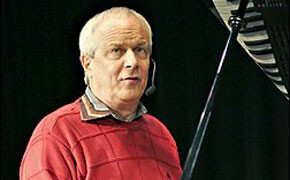 Ken Medema, singer and songwriter
As part of Southern Wesleyan University's centennial celebration, the university presented Ken Medema, a Christian singer and songwriter, in concert.
Medema is a blind musician, composer and songwriter who shares songs, stories and improvisational skills with his audience. People have been responding to his music for more than 30 years, and he performs in a wide variety of venues, ranging from local congregations to globally televised religious programs.
He performed for the university's 2006 Southern Area Ministers' Conference at Southern Wesleyan University, for a university chapel service and for the community as part of the institution's Fine Arts Series.
Since his birth in Grand Rapids, Mich., Medema has not been able to see with his physical eyes. His sight is limited to distinguishing between light and darkness and seeing fuzzy outlines of major objects.
As a child, music became a major component of his life. He started banging on the piano when he was 5 years old. When he was age eight, his parents secured a piano teacher who taught Medema the classics with Braille music and taught him to play by ear.
While working as a music therapist, Medema began writing and performing his own music. This led him to writing songs about his Christian life. Soon after, Medema began a career as a performing and recording artist. He has recorded albums for Word and Shawnee Press.
In 1985, Medema launched Brier Patch music, a small independent recording, publishing and performance-booking company named after Brer Rabbit's home in the legendary Uncle Remus stories.
"Brer Rabbit lived in a place not comfortable for anyone else," Medema says, "and we have decided to follow him there."
Medema's music celebrates all aspects of the human experience, with an emphasis on spirituality and such universal concerns as peace, justice and the environment.