Citadel Gospel Choir ministers in music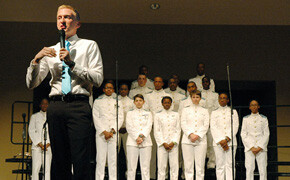 Braeden Kershner, director of the Citadel Gospel Choir, introduces the 25-member group of musicians during a March 22 chapel at Southern Wesleyan.
Kershner is a 2007 music education graduate who has gained local and national recognition, including coverage on NBC's Today Show and top honors from the Charleston County School District. He is also band and choral director at C.E. Williams Middle School for the Creative and Scientific Arts in Charleston.