Clemson Elementary students visit Freedom's Hill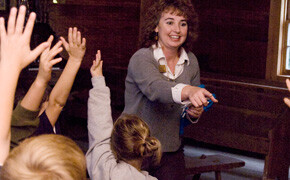 Southern Wesleyan University's Joy Bryant answers questions from Clemson Elementary School students.
How do you move a church building all the way from North Carolina? That was one of many questions Southern Wesleyan University's Joy Bryant answered as she presented the history of Freedom's Hill Church to second-graders from Clemson Elementary School.
Bryant is executive director of alumni and constituent relations. Also, Chuck Mealy, director of conference and housing services, talked about the old hymns the congregation would have sung in the 1800s and played "Amazing Grace" on an antique pump organ. More than 100 Clemson Elementary students visited the historic church, which was originally built in 1848 in the Snow Camp community of North Carolina and relocated in 2000 to the university's campus in Central. The students visited Freedom's Hill as part of a social studies field trip Nov. 23. Other stops included the Central Heritage Museum, Collins Ole Town and the Central Railway Museum.