Columbia student discovers rewards, challenges working with children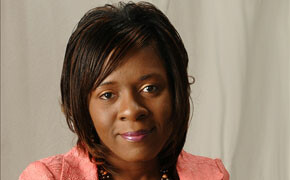 It took quite a few years for Stacey Hunter to discover her calling. Now, she knows where she's going and she is taking steps to fulfill some personal goals.
Hunter, a human services student at Southern Wesleyan University's Columbia education center, worked in the travel and hospitality industry, then traveled across the nation and overseas as an Army wife. When her husband Timothy retired from the military, the Hunters settled in Columbia.
For a while, Hunter worked as a homemaker until her son Brian was in the third-grade. She then started working in education, first for the South Carolina Department of Education, then for an area college. When budget cuts led to her job ending, Hunter wasn't sure where to go next.
"A friend told me I should work in the area in which God called me, which was working with children," she said. After a time of prayer, she began working for Richland School District 2 as a substitute teacher, where she eventually became a TA/ABA line therapist with Lake Carolina Elementary School, working with special needs students, specifically those with autism. Now in her second year, Hunter learns something new every day, such as how to adapt to their world and their way of thinking.
Another challenge Hunter encounters is safeguarding the children from danger.
"An autistic group is very busy. They tend to find things to do and get into that could cause danger to themselves and many others," she said. Challenging a misconception that autistic children have no feelings, Hunter contends that, although they might have the same internal issues, they are individuals who are not alike.
"They all are different with unique and individual personalities, feelings and emotions and the ability to learn and comprehend," Hunter said. "The challenge for us as teachers, assistants and instructors may be there, but when you have a love, passion and a God-given gift or talent, it makes a challenge that much easier to overcome."
Hunter was considering a return to the classroom for a new degree, and began researching colleges and universities when she heard an ad for SWU and decided to contact them.
"They had everything I was looking for in a program – schedule, assistance and classroom size. All of the chips fell into place," Hunter said.
"I enjoy the prayers right before class starts. The professors are great to work with. If there's ever a problem it's resolved in a timely matter," she said, adding that the supportiveness she gets from classmates makes her feel like they are family.
Hunter is also a Sunday School teacher and leads the children's church department at Kingdom Vision Church. Additionally, she is involved in the church's drama and intercessory prayer ministries. After graduation, Hunter hopes to work fulltime in a ministry devoted to teaching children.
Through its Adult Evening program, Southern Wesleyan University offers classes across South Carolina at its education centers in Central, Charleston, Columbia, Greenville and North Augusta. Classes are also offered in Greenwood and Spartanburg. Select programs are available online.
Southern Wesleyan University is a Christ-centered, student-focused learning community devoted to transforming lives by challenging students to be dedicated scholars and servant-leaders who impact the world for Christ.