Compassion motivates SWU graduate's work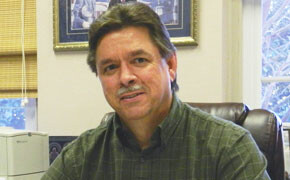 Steve Shiflet
A compassion for children led Steve Shiflet, a 1983 Southern Wesleyan University business graduate, to Connie Maxwell Children's Home at Greenwood.
Shiflet learned about the opening for an accountant at Connie Maxwell from the choir director at his hometown church, Southside Baptist in Anderson. The choir director knew that Shiflet earned a business degree and that he enjoyed teaching youth at his church.
Shiflet feels blessed that God placed him where he could combine his accounting experience and his love for working with children. He is close to completing three decades of service to Connie Maxwell and currently serves as their vice president for business.
As a student, Shiflet was looking for a Christian college to continue his higher education after transferring from Anderson University, which was then a two-year college.
"Central Wesleyan College (now Southern Wesleyan University) was just up the road. I heard about it and applied," Shiflet said, adding that he appreciated the personal attention his professors gave him. He was also able to transfer all of his course credits.
A ministry of the South Carolina Baptist Convention, Connie Maxwell was established in 1892 through a generous gift of Dr. J.C. Maxwell and his wife, Sarah, who lost their seven-year-old daughter, Connie, to scarlet fever. To honor her memory, the Maxwells gave South Carolina Baptists more than 480 acres and willed their estate to be used in starting this ministry for children. Connie Maxwell gets funding from the Cooperative Program of the Southern Baptist Church, donations from churches and gifts from individuals with a heart for children. They also have an endowment.
"We have school age children first through twelfth grade," Shiflet said. Beyond the Greenwood campus, Connie Maxwell also has a campus in Orangeburg with two cottages housing up to 16 children. They also have group homes in the Simpsonville/Mauldin area as well as in Florence and Chesterfield.
"We want to keep families together if at all possible," he said, adding that Connie Maxwell also offers assistance through their higher education program.
"We recently started a program to help single parents get back on their feet. We have a parent and children living in one of our houses on campus," Shiflet said. "When someone has fallen on hard times, we're helping them get a GED or find a job."
Shiflet has seen many changes while at Connie Maxwell. Corporal punishment became a thing of the past many years ago, so the Connie Maxwell staff has to be creative in their disciplinary approach when dealing with a generation of children facing different sorts of issues. A few years ago they started using the CARE curriculum, a program that helps staff members better understand the backgrounds of children served by Connie Maxwell.
"We try to make it as much like home as possible. Cottage parents live with the children and are there 24-7," said Shiflet, adding that different groups of cottage parents rotate on a schedule. He and his wife Renee spent six years as cottage parents themselves and they keep in touch with most of the children who stayed with them. The Shiflets have a son and two adopted daughters.
Connie Maxwell's acreage includes a farm with cattle and a garden. Shiflet commented the farm used to produce food needed by the home, but in recent years it has become an outdoor classroom. While students can work in the farm, they can also take advantage of a camp-like setting that includes dorms housing 12-15 people, a kitchen and a bath house.
Connie Maxwell also has a church on its campus, which is also attended by people from the surrounding community.
Connie Maxwell's children attend area public schools and there is an education coordinator on staff who serves as a liaison with the schools. Shiflet commented that, because Connie Maxwell has been part of the community for so long, children don't experience the rejection that might occur in other places and fit in well with their classmates.
Connie Maxwell alumni are also active and there are reunions every other year, which are well-attended. In addition, Connie Maxwell alumni often return to visit staff members.
"We've had a lot of successful alumni in many walks of life. Some have become lawyers and educators," Shiflet said. "They raise money and do projects – we keep pretty good contact with our alumni."
To find out more about Connie Maxwell Children's home, visit their website at http://www.conniemaxwell.com.
Southern Wesleyan University is a Christ-centered, student-focused learning community devoted to transforming lives by challenging students to be dedicated scholars and servant-leaders who impact the world for Christ.