Convocation marks new academic year at Southern Wesleyan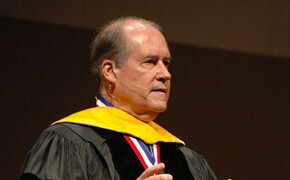 Dr. Lee Kizer, professor of business in the Adult and Graduate Studies program at Southern Wesleyan University, challenges students to pursue excellence during a campus-wide convocation on the first day of fall classes, Aug. 16, in Central.
Kizer, who was recently named Faculty Member of the Year at Southern Wesleyan, has been a member of the business faculty since 2002. He previously served as supply officer with the United States Navy and was a special agent with the Federal Bureau of Investigation for 17 years. He has also served as a full-time minister and pastored Evangelical Presbyterian Churches in Asheville, N.C., and Birmingham, Ala.