Countywide tourism summit at SWU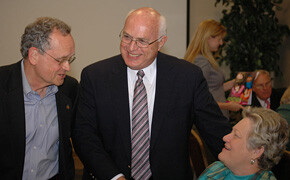 Dr. David Spittal, president of Southern Wesleyan University, center, talks with Kent Dykes of the Greater Easley Chamber of Commerce, left, and Anne Sheriff of the Central Heritage Society during a countywide tourism summit held at the university March 11.
Southern Wesleyan University hosted a countywide tourism summit March 11. The event offered tourism leaders throughout Pickens County an opportunity to learn about the work of the county's new tourism board, as well as to network with other area tourism representatives.