Cromer receives music scholarship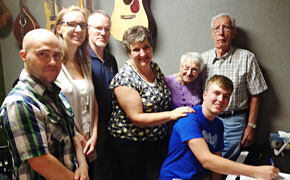 Noah Cromer signs a letter of intent to attend Southern Wesleyan University. Pictured from left to right are music teacher Dusty Pauken, sister Rebecca Cromer, parents Dan and Dorcas Cromer, grandparents Fern and Maurice Tolan, and Noah Cromer, seated.
Mich. – Noah Cromer signed a letter of intent to attend Southern Wesleyan University's Department of Music, where he will enroll in the fall of 2014.
Cromer will participate in instrumental and choral ensembles as he prepares to double major in Music and Christian Ministry. An accomplished pianist who also plays drums, guitar, violin and bass guitar, Cromer is appreciative for the music instruction he received from Dusty Pauken. He credits his progress in music over the past six years to the incredible instruction of Pauken. Noah follows in the footsteps of his three older siblings, all of whom attended Southern Wesleyan. Noah and his family attend Whiteford Wesleyan Church in Ottowa Lake, Mich.
The music scholarship is renewable and open to students who are active in their school's music programs and Southern Wesleyan students involved in each of the university's three performing groups. For details about music ensemble scholarships being offered at Southern Wesleyan, contact Don Campbell at , (864) 644-5402, or Greg Day at , (864) 644-5414.
Southern Wesleyan University is a Christ-centered, student-focused learning community devoted to transforming lives by challenging students to be dedicated scholars and servant-leaders who impact the world for Christ. For details about degree programs, go online to swu.edu.