Day receives Music scholarship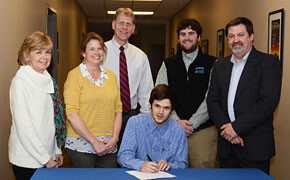 Tad Day (seated) signs a letter of intent to Southern Wesleyan University's Department of Music, where he will enroll in the fall of 2014.
Tad is joined by (from left) Jane Dill, chair of the university's Fine Arts department; Lisa Day, Tad's mother; Todd Voss, Southern Wesleyan University president; Nathan Whitworth, D.W. Daniel High School band director; and Prof Gregory Day, director of bands at Southern Wesleyan. Tad will participate in the instrumental and choral ensembles as he prepares to earn his degree in Secondary Music Education at SWU, a National Association of Schools of Music (NASM) accredited institution.
The music scholarship is renewable and open to students who are active in their school's music programs and Southern Wesleyan students involved in each of the university's three performing groups. For details about music ensemble scholarships being offered at Southern Wesleyan, contact Day at , (864) 644-5414; or Don Campbell at , (864) 644-5402.
Southern Wesleyan University is a Christ-centered, student-focused learning community devoted to transforming lives by challenging students to be dedicated scholars and servant-leaders who impact the world for Christ. For details about degree programs, go online to swu.edu.