Developing a heart for service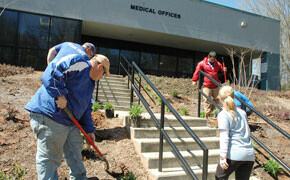 Southern Wesleyan University staff and students work on a beautification project at Cannon Memorial Hospital in Pickens during Day of Service March 19.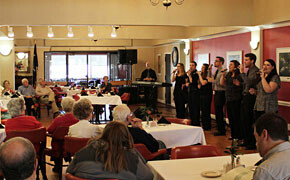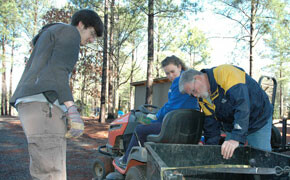 Left: The University Singers ministered in music to Clemson Downs residents during Day of Service.
Right: Don Schaupp of the Potter's Place adjusts a trailer as Parker Thompson, left, a Music major from Walhalla and Allison Droddy, center, an Exercise Science major from Pickens prepare to clear brush at the retreat center located near the Southern Wesleyan University campus in Central. Schaupp is also a retired SWU computer science professor.
Approximately 200 volunteers from Southern Wesleyan University reached beyond the Central campus into surrounding communities in an effort to make a difference.
Organized by Southern Wesleyan's Student Life office, Day of Service involved approximately 150 students and 50 faculty and staff members in various service projects that included ministry to senior citizens, distribution of food to needy citizens and landscaping work.
"The purpose of the Day of Service is to not only give back to the community, but to open our students to a wide variety of service choices and to allow them to choose projects of interest to them," said Justin Carter, associate vice president for Student Life at Southern Wesleyan.
Keonna Palmer, a sophomore from Easley majoring in Media Communication and Human Resources, accompanied a group at Golden Harvest Food Bank, helping them distribute food to needy individuals and families in the area.
"I was nervous at first because I thought many of them were going to judge me. When I made that connection with some people, it just seemed like they were just like me," Palmer said.
"The 12 amazing young men and women brought life, excitement and joy into our warehouse," said Liz McElroy, Upstate district manager at Golden Harvest. "Having them made working and serving here all the more worthwhile."
Allison Droddy, a senior from Pickens majoring in Exercise Science, chose to serve at the Potter's Place, giving back to the ministry near Southern Wesleyan's Central campus that ministers to her and other students by providing a welcome place to retreat into a woodland setting. She and a large group composed of students and faculty members spent the day cutting down brush and helping with landscaping work.
The University Singers visited Clemson Downs to brighten the day of the nursing home's residents with music and conversation. Jane Dill, chair of the university's Fine Arts department, accompanied the singers and other students there.
"The singers did a great job and everyone had a good time chatting with the residents," Dill said. Will Henderson, a Youth Ministry major from Brevard, N.C., said he gained a lot from reaching across generations to chat with the residents.
"It was really educational to take hold of the knowledge and the generations that are in the retirement homes," he said.
For Joy Bryant, the university's director of alumni and community relations and a Southern Wesleyan graduate, spending a day working on the grounds of Table Rock Wesleyan Camp was a labor of love. When she was growing up, Bryant spent many memorable summers at the camp. She and a group of students returned to the camp where they cleared out briars and brush that obscured a scenic creek, and cleaned up the facilities. At the same time, other groups were painting walls and building a new volleyball court.
"The time together, the work, the laughter, the conversations made memories for those that participated that will last a long time," Bryant said.
At Gleaning House Ministries in Pickens, some of the students helped carry boxes of food to cars, while others sorted food in the back of the building for future distribution. Another group distributed non-perishable foods and hygiene products to people as they came through.
"It was a humbling and amazing experience," said Tracy Byrd, a junior from Easley majoring in History. Byrd, who also volunteers at Gleaning House, said "The young people I worked with were respectful and joyful during the entire time we were there."
"For me, service is helping people and looking out for their needs," said Jenna Griffin, an Education major. Griffin joined classmates and members of the university's grounds crew in beautification projects at Cannon Memorial Hospital in Pickens.
"As Christians we should model Christ and be committed to serving others," Carter said. "In doing so, I believe they will discover that service can be fun and enriching and I hope a positive outcome is that they will develop a heart for service."
Project locations also included Asbury Hills Camp and Retreat Center, Golden Corner Ministries, "Hundred Acre Wood" at SWU and Sterling House retirement community.
Southern Wesleyan University is a Christ-centered, student-focused learning community devoted to transforming lives by challenging students to be dedicated scholars and servant-leaders who impact the world for Christ.