Driving range coming to Southern Wesleyan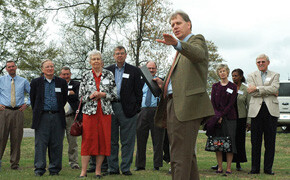 Dr. Todd Voss, foreground, shares with members of Southern Wesleyan University's board of visitors plans for the university's new golf driving and practice range while pointing out features on the facility's site. At far left is Chris Williams, the university's athletics director.
The addition of a new golf driving/practice range at Southern Wesleyan University is seen as a "hole-in-one" that will benefit the athletic program and attract visitors to Central.
Central's city council approved $20,000 from the Hospitality Fund as part of a partnership with the university. Chris Williams, Southern Wesleyan's athletic director, estimates the facility will cost approximately $65,000 – partly funded through partnerships with local businesses as well as Southern Wesleyan alumni.
Williams envisions far-reaching benefits for students enrolled in business and recreation degree programs, including internships and the experience of operating a business. The driving range, which will be located just off S.C.93 near Southern Wesleyan's entrance, is slated to feature self-service, coin-operated machines for golfers to get practice balls.
"It's a great thing to be able to work together with Southern Wesleyan and with its president, Dr. Todd Voss, leading the way. We'll have visitors coming to Central who previously had no reason to come," said Martin, mayor of Central. Phillip Mishoe, Central's city administrator, notes that local golfers currently traveling to Easley or Seneca will stay in town and spend their money locally.
"Beautiful" is the way Voss describes the new facility, which will offer eight practice greens and two large tiered tee stations.
"This driving range will be a significant addition to Southern Wesleyan University and our amazing community," Voss said. "In addition, it will add important value to our Men's and Women's golf teams who currently have to travel at least an hour every day to and from a practice area. It is a delight to work with the City on this kind of positive impact endeavor. It will add a high visibility feature to the town, encourage golfers from far and wide to use a first class driving range, and will enhance our entrance and expand the concept of making our campus the athletic showpiece we hope it can be."
According to Voss, construction on a new golf driving/practice range will begin early this Spring. The range is projected to be ready by Fall 2012.