Fair helps SWU religion majors take next step in ministry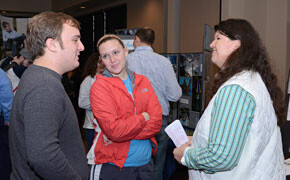 Kaleb Spaugh, left, of Hertford, N.C., and Madalyn Mills of Kernersville, N.C., chat with Angie Hemric of Global Partners, right, during a ministry fair Feb. 10 at SWU's Central campus. The Division of Religion invited graduate schools, parachurch ministries and churches with internships and residency programs to participate.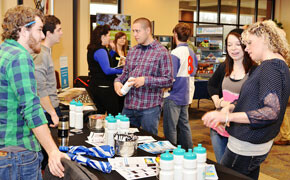 Pictured from left are Kehl Hudson and Matt Irvine of ALIVE Wesleyan Church in Central; SWU religion majors Alex Gebert of Easley and Amber Collins of Millsboro, Del.; and Stephanie Rhyne, also with ALIVE Church.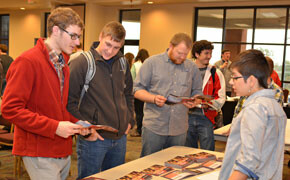 Southern Wesleyan University religion major Dillon Groves, left, of Laurens speaks with Stacey Fronek, right, of Kingdom Building Ministries about the organization's opportunities during a ministry fair at the university's Central campus. Also pictured are Andre Winters of Rockford, Mich., Kevin Hardin of Cleveland and Christian Clour of Belton.