Focus on wellness at Southern Wesleyan University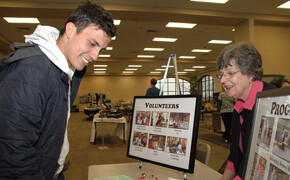 At left, Southern Wesleyan University student Andres Molano, a freshman business major from Bogota, Colombia, checks out volunteering opportunities as Judy Grant, program director at Clemson Community Care, looks on.
Wellness-oriented businesses and organizations took part in Southern Wesleyan University's Health Fair March 29 in the University Dining Commons on the campus in Central. The Health Fair was part of Wellness Week, held March 28 – April 1 at Southern Wesleyan. Events included health screenings, guest speakers, workshops and a blood drive.