From one generation to another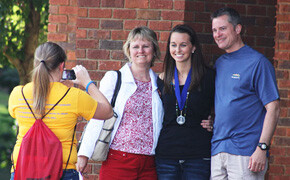 Anna Bross of Franklin, N.C., poses for an impromptu photo with her parents, Jim and Angie Bross following the Passing the Mantle ceremony Aug. 18, part of Orientation at Southern Wesleyan University.
Jim is a 1984 alumnus of Southern Wesleyan and Angie is a 1985 alumna. He is the son of Dr. James Bross, professor emeritus of religion at Southern Wesleyan.