Graduates working close to 'family' at SWU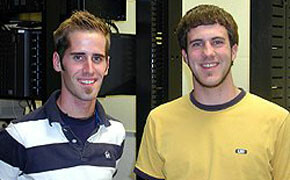 Recent Southern Wesleyan University graduates Jason Constance, left, and Jon Brady, are now working at the university's campus in Central.
Freshly painted walls, new offices, and new equipment are just a few additions that you will find at Southern Wesleyan University's Information Technology Department.

However, there were two more additions during the summer. Jon Brady and Jason Constance are the newest members of the IT staff. Both of them graduated from Southern Wesleyan in May, and immediately came back as employees of the IT Department.

Jason Constance is originally from Dacusville. He is the university's new network administrator. His responsibilities include taking care of the security, firewalls, routers and switches on the network.
"I make sure that the network is running smooth and safe," Constance said. His busiest time came at the beginning of the year when Constance had to create each individual user log in. He also makes sure that the university's Internet policy is being followed.


Jon Brady is the university's instructional media specialist from Kannapolis, N.C. He is in charge of the laptops and projectors used in the classrooms and in chapel services. He also trains the faculty on how to use the equipment.

Brady is also in charge of recording major events on campus. All of the videos shown in classes or chapel are part of his responsibility. Nine work-study students assist Brady in taking care of these tasks.

When asked what it was that made them come back to SWU, both new employees cited "family."

"It was almost like I had to give up my family when I graduated," Constance said.

Brady agreed, "I gained great friends, accountability partners and support."

Constance and Brady still have a lot of interaction with the students. Both of them continue to eat in the dining hall for the majority of their meals and attend events that are held on campus.


"The family that is here at SWU will gather together and pray with you whenever you need it. It's the kind of family that you experience when you are part of the body of Christ," Constance said.

Brady and Constance agree that being Christ-centered is what sets Southern Wesleyan University apart from other institutions.