Graduation Speaker Brings Legal Perspective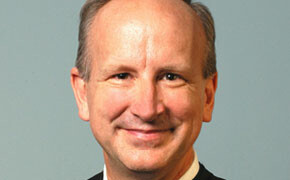 Paul Martin Newby
After nearly 20 years as an assistant U.S. attorney, the Honorable Justice Paul Martin Newby will address Southern Wesleyan University graduates on Saturday, May 12, as commencement speaker. The university will have two separate graduation ceremonies at Walden Tysinger Gymnasium on the university's campus in Central. The 10 a.m. ceremony is for graduating students from the university's Central and Greenville locations earning associate's and bachelor's degrees, and for students from all locations earning Master of Business Administration and Master of Science degrees. The 3 p.m. ceremony is for students from the university's Charleston, Columbia and North Augusta locations earning associate's and bachelor's degrees, and for students from all locations earning Master of Education and Master of Ministry degrees.

The university expects to confer approximately 370 degrees, according to Registrar Rock McCaskill.

For details, call Southern Wesleyan University's Academic Records Department at (864) 644-5530. Tickets, issued through the university, are required for those attending graduation. Overflow seating is available, which will allow guests without tickets to view the ceremony via a closed circuit broadcast.

Other end-of-semester events include Baccalaureate Chapel on May 10. The speaker for the service will be Rev. Ken Dill, Southern Wesleyan University chaplain and the father of a graduating student, Emily Dill.

Newby was born in Asheboro, N.C., and received his B.A. degree in public policy as a magna cum laude graduate from Duke University. He received his law degree from UNC-Chapel Hill School of Law.

He served as a judicial intern in the United States Supreme Court and interned in the 18th Judicial District Public Defenders Office in Greensboro/High Point, N.C. He has practiced law in Asheville, N.C., with Van Winkle Buck, Wall, Starnes and Davis and served as vice president and general counsel for Cannon Mills Reality and Development Corporation in 1985.

In 1985, Newby was appointed as assistant U.S. attorney in Raleigh, N.C., where he served for more than 19 years. He has also taught courses for the U.S. Department of Justice.

Newby is an Eagle Scout and serves as scoutmaster emeritus of Troop 11. He is the recipient of the Heroism Award for the rescue of nine people from a riptide and has received the God and Service Award.

He has been married to Macon Tucker Newby for 23 years. They are the parents of four children. He and his family attend Christ Baptist Church in Raleigh, where he is an elder, Sunday school teacher and youth leader.

Southern Wesleyan University prepares students for leadership and graduate study in such fields as religion, education, music, business, medicine, law and a variety of civic and social service professions. Southern Wesleyan offers 35 major areas of study for undergraduates and graduate degrees in the areas of business, education and ministry. The university's main campus is in Central and there are regional learning centers across the state, in locations such as Greenville, Columbia, Charleston and North Augusta. Classes are also offered in Spartanburg and Greenwood.