Hanner signs scholarship with Southern Wesleyan University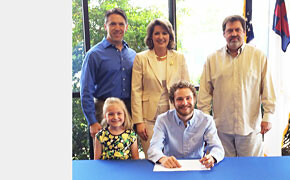 Jordan Hanner is seated with his sister, Rachel Hanner; and standing, from left are his father, Doug Hanner; his stepmother, Lisa McWherter; and Greg Day, professor of music and director of bands at Southern Wesleyan.
CENTRAL, S.C. – Jordan Hanner will be transferring from Tri-County Technical College as a junior to Southern Wesleyan University this fall. Jordan was a 2012 graduate of T.L. Hanna High School where he played with the T.L. Hanna Jazz Band and won an academic award in English and Creative Writing. He was also the recipient of T.L. Hanna's Excellence Award for Musicianship with the Orchestra.
Jordan was heavily influenced by his high school music instructors Richard Baskin and Matt Spears, and their positive impact has helped to shape his career choice of Music Education. He continues to assist Baskin with the T.L. Hanna Jazz Band when called upon.
Jordan plays the bass guitar and the stand-up bass and he has performed with the SWU Jazz Ensemble throughout the 2013-2014 academic year. Jordan plays the stand-up bass with the Anderson Symphony Orchestra and the bass guitar with Electric City Fellowship in Anderson.
Beyond Jordan's instrumental performances, he has acted in a number of musical productions with the Montessori School of Anderson, including the lead role in "You're a Good Man, Charlie Brown," and Enjolras in "Les Miserables." He also participated in the Tri-County Technical College Chorus. Jordan will participate in Southern Wesleyan's Concert Choir, Wind Ensemble and Jazz Ensemble.
Southern Wesleyan University is a Christ-centered, student-focused learning community devoted to transforming lives by challenging students to be dedicated scholars and servant-leaders who impact the world for Christ. For details about degree programs, go online to swu.edu.