Harp and violin to make music together at SWU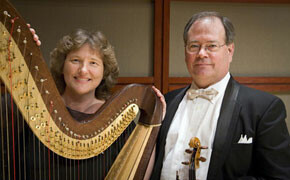 Harpist Anita Burroughs-Price, left, with violinist Brian Reagin.
Two outstanding soloists combine their talents for an evening of harp and violin music at Southern Wesleyan University.

Harpist Anita Burroughs-Price received her first harp lesson at Southern Wesleyan University. She has since gone on to become the principal harpist with the North Carolina Symphony.

Violinist Brian Reagin serves as concertmaster of the North Carolina Symphony. Prior to this, he served as assistant concertmaster of the Pittsburgh Symphony and concertmaster of the Cleveland Institute of Music Symphony Orchestra. He has toured and performed around the world with artists such as Yo Yo Ma and Claude Bolling.

The two artists will perform together Sept. 28 at 7:30 p.m. at the university's campus in Central.

The event is part of Southern Wesleyan's annual Fine Arts Series at Newton Hobson Chapel and Fine Arts Center. Tickets are $10 for adults, $5 for students with identification and SWU students are admitted free with identification. For details, call (864) 644-5408.

Burroughs-Price has appeared as soloist with the N.C. Symphony, Durham Symphony and the South Carolina Chamber Orchestra. She frequently appears in solo recital and has been featured in the Piccolo Spoleto Festival and in England's Brighton Palace. Memorable events include a performance with Grammy winner Branford Marsalis and a duo appearance with Marilyn Keiser, world renowned organist and professor at Indiana University. In addition to the pedal harp, her recitals often include harps from Ireland, Africa, Paraguay and a rare Erard single-action harp from England.

She is a graduate of Furman University with a double major in French and harp performance. Burroughs-Price earned the master of music degree from Yale University, which also awarded her the illustrious Alumni Prize. In 1985, she received a Rotary International Fellowship for post-graduate study with Marisa Robles at London's Royal College of Music where she earned diplomas in harp performance and harp pedagogy.

A devoted educator, Burroughs-Price is a harp instructor at Furman University, N.C. State University and Meredith College and has served on the faculty of the University of North Carolina at Chapel Hill, the University of North Carolina at Charlotte, Wake Forest University, St. Mary's School and the South Carolina Governor's School for the Arts.

A scholar of early harp music, Anita has been the recipient of Regional Artist Project Grants from the United Arts Council for travel to London to research the history, technique and repertoire of her rare 1810 Erard single-action harp.

Burroughs-Price has supported the arts through her volunteer performances for many charities, churches, synagogues and civic groups. She has performed in soup kitchens, prisons, in Red Cross hurricane shelters, hospitals and at the bedside of terminally ill patients. Her work with individuals in crisis has been featured on Hallmark Television and on NBC.

She was awarded the 1999 Raleigh Medal of Arts, the city's highest award, for her "outstanding artistry and humanitarian service." Her recording, "Healing Touch," won the 2006 Excellence in Media Silver Angel Award and has raised more than $16,000 for Interact, Interfaith Food Shuttle and New Orleans musicians displaced during Hurricane Katrina.

Before joining the N.C. Symphony, Brian Reagin was assistant concertmaster with the Pittsburgh Symphony. A Chicago native, Reagin recently completed his 17th season as concertmaster of the North Carolina Symphony.

Prior to joining the Pittsburgh Symphony, Reagin served as Concertmaster of the Cleveland Institute of Music Symphony Orchestra and served on the faculty of Carnegie Mellon University.

He made his solo debut with the Cleveland Orchestra performing Tchaikovsky's Violin Concerto while a student at the Cleveland Institute. Other solo appearances include performances with the Pittsburgh Symphony, the Charleston Symphony, the Dayton Philharmonic, the Syracuse Symphony, and the Wheeling Symphony.

Reagin has performed recitals in Chicago, Cleveland, Pittsburgh, and Washington. He has toured Japan, China, Hong Kong, Europe, Canada and Puerto Rico with the Pittsburgh Symphony and performed numerous recital and chamber works in Europe, Africa and the West Indies.

A highlight of his extensive chamber and recital career was a televised performance of the Brahms B Major Trio with Andre Previn and Yo Yo Ma. In 1991 and 1992 he performed the Claude Bolling Jazz Suite for Violin with Bolling and his Trio, including a performance for French television. In the fall of 2001, Reagin participated in a three-week tour of Europe with the Baltimore Symphony Orchestra under Music Director Yuri Temirkanov, including performances in London, Paris, Berlin and Vienna.

On September 13, 2001, two days after the tragic attacks on America in New York City, Washington, D.C., and Pennsylvania, Reagin was called on, with 24 hours notice, to substitute for Itzhak Perlman, who was stranded in Detroit, in a performance of the Mendelssohn Violin Concerto with the N.C. Symphony at its gala season opening concert.

In November 2003, Reagin traveled to Kiev, Ukraine, to record the world premiere CD of George Frederick McKay's Violin Concerto with the National Symphony Orchestra of Ukraine under the direction of John McLaughlin Williams, and in February of 2004 he performed as soloist and concertmaster at the first Cayman Arts Festival in Grand Cayman, British West Indies

Reagin is a graduate of the Cleveland Institute of Music, where he earned a diploma in violin performance in 1976 and an artist diploma in 1977. For four years he participated in the Cleveland Chamber Music Seminar, coaching with the Guarnari Quartet and with Mischa Schneider of the Budapest Quartet. He spent seven summer seasons at the Meadowmount School of Music where he studied with Ivan Galamian, coached with Josef Gingold and served as both an assistant and faculty member.

Reagin has been a recipient of numerous prizes and has held faculty and visiting artist positions with Carnegie Mellon University, Chatham College, the Cleveland Institute of Music and East Carolina University. He currently teaches privately at his home.

Reagin performs on a Lorenzo and Tomasso Carcassi violin made in Florence, Italy, in 1763.