He who has ears, let them hear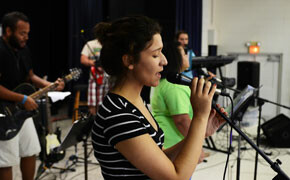 Members of The Difference, an eight member worship band, spent time this week rehearsing at Folger Fine Arts Auditorium on the Southern Wesleyan University campus in Central.
SWU summer ministry teams prepare for ministry
Members of The Difference will head out to minister in music, lead in recreation, lead devotions and serve as counselors at camps in the Carolinas, Florida and Indiana this summer. Members of The Difference are Ryan Kivett (Team Leader) of Kernersville, N.C.; Kaitlin Messick of Pelzer; Sean Bowers of Fountain Inn; Jalen Allen of Central; Britney Fernandez of Easley; Ethan Austin of Pinconning, Mich.; Caitlyn Cross of Hickory, N.C.; and Hannah Ortega of Walhalla. Complete schedules for the Difference and other SWU summer ministry teams can be found here.