Hispanic music,culture in spotlight at Southern Wesleyan University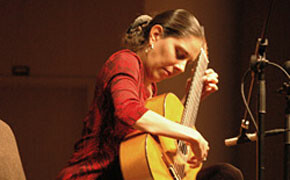 Dr. AnnaMaria Cardinalli-Padilla
A day of dramatic and joyful music marked Southern Wesleyan University's celebration of Hispanic Heritage Month recently.
Dr. AnnaMaria Cardinalli-Padilla, classical and flamenco guitarist and singer, presented Hispanic music and culture at the university's Newton Hobson Chapel and Fine Arts Center at the university's campus in Central, S.C. She has performed worldwide, blending music with history and entertainment.
Southern Wesleyan University has had a steady number of Hispanic students for the past five years.
"We're trying to educate our campus about the Hispanic culture," said Samantha Wilson, associate vice president of student life at Southern Wesleyan. "It demonstrates that we recognize that there are not only white students on our campus. It's about everyone being exposed to different types of people."
With the Hispanic population being the fastest-growing population in the United States, it is essential that Southern Wesleyan University tune in to that population, Wilson said.
Dr. Cardinalli-Padilla said she strives to provide cultural and historical insight through music. At a morning concert she highlighted the many musical and cultural differences throughout the Hispanic world.
Starting with a Spanish flamenco, Dr. Cardinalli-Padilla explained that most musical influences on Hispanic culture came from Spain, with dramatic guitar-thumping and rhythmic strumming was filled with intense emotion. She next played a more traditional flamenco.
Dr. Cardinalli-Padilla noted how Hispanic music has Islamic influences, a result of 400 years of Muslim rule. She described Spain as geographically separated from the rest of Europe by mountains, so it developed unique music and culture. The guitarist then moved on to Mexican music, a joyful mixture of cultural influences including German, French and tropical music, as well as Spanish. She concluded with modern Hispanic music, which is a whole new blend of culture and tradition.
Dr. Cardinalli-Padilla also performed at an evening concert, open to the public, in Newton Hobson Chapel and Fine Arts Center.
"Our student body was so amazed at her abilities and her talent. She has an incredible voice," Wilson said.
It is important for Southern Wesleyan University to minister to special populations of students because they may have needs that are culturally different from other students, Wilson said.
"Because of the event, many of our students felt special. It meant so much to our Hispanic students," she said.
The university has a cultural awareness committee to make sure all campus cultures are involved at Southern Wesleyan University. There are other ways the campus community embraces other cultures, she said.
"Our athletic department goes to many Latin American countries to minister to people there," Wilson said. The university also teaches Spanish language classes, as well as education classes on how to teach English as a second language.
"We hope to be able to present this type of Hispanic celebration every year for our entire campus community," Wilson said. "Events like this let us know how creative God is with all the different types of people that exist in the world. It allows us to appreciate that diversity in all its variations."