Huge "family gathering" at Southern Wesleyan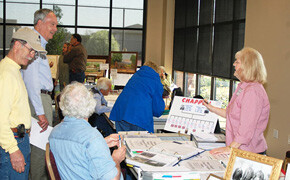 The public is invited to the third 100 Year Reunion of Upcountry Families, scheduled for Friday, June 22 and Saturday, June 23 on the Southern Wesleyan University campus in Central.
The free event will include display tables for local families of the Old Pendleton District, which became present-day Anderson, Oconee and Pickens counties.
The event kicks off at 6 p.m. Friday, June 22 at Folger Fine Arts Auditorium with a lecture series, featuring Charles Andrews, who will speak about family migration routes into and out of the Upcountry. Also featured will be a presentation about burial customs with Tim Drake.
The gathering of Upcountry families will take place Saturday, June 23 from 10 a.m. until 5 p.m. in the university's Dining Commons. Featured during the day will be "Genealogical Research 201 and the 1940 Census" and quilt identification with quilt researcher Laurel Horton.
The reunion is being sponsored by the Birchwood Center for Arts and Folklife, along with Southern Wesleyan University, the Old Pendleton District Genealogical Society, the Pickens County Historical Society, the Pickens County Museum of Art and History, the Central Heritage Society and the Pendleton Historic Commission.
For details, contact the Birchwood Center at 898-0840 or email . Also, more information can be found online at www.birchwoodcenter.org.