It's a Grand Night for Singing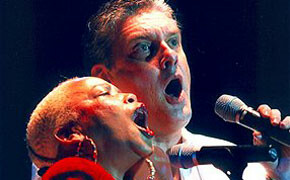 Join highly acclaimed soprano Sarah Reese, tenor Steven Ponder and pianist Jane Dill Sept. 27 as they open SWU's 2004-2005 Fine Arts Series with everything from Verdi arias to selections from "Porgy and Bess."
The performance, "It's a Grand Night for Singing" begins at 7:30 p.m. in Folger Fine Arts Auditorium on Southern Wesleyan University's main campus in Central. Admission for the event is free and the public is invited to attend.
Sarah Reese, a native of Greenville, has traveled and performed throughout the world. She has performed roles with the Metropolitan Opera as well as in various roles across Europe. Her most recent accomplishments include performing with the BBC Orchestra at the Royal Albert Hall in London and at New York's Carnegie Hall. Reese is currently the choral director at Pendleton High School in Pendleton.
Steven Ponder has been the minister of music at Boulevard Baptist Church in Anderson for 26 years. He conducts and oversees a complete graded choir program, which includes the sanctuary choir and the touring youth choir, the Celebration Singers. Ponder is an active performer and also the conductor of the GAMAC youth chorus. He is adjunct professor of voice at Southern Wesleyan University.
Reese and Ponder will be accompanied by Jane Dill, chair of the Fine Arts Division at Southern Wesleyan University. Dill has a wide background in accompanying, having worked with soloists, instrumentalists, choirs and opera companies throughout the Southeast. A native of Pendleton, Dill is in her eighteenth year at Southern Wesleyan University.
For details about this event or the Fine Arts Series at Southern Wesleyan University, call Jane Dill at (864) 639-2453, ext. 5294, or e-mail .