It's beginning to look a lot like…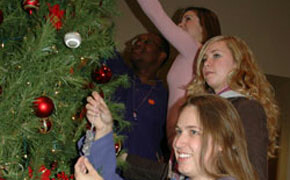 SWU students do their part in decorating the campus for the Christmas holidays. Decorating the large Christmas tree outside the University Dining Commons are, from front to back: Tina Collins of Liberty; Colleen McShay of Greensburg, Ind.; Tiffany Moore of Central; and Jermaine Harris of Macon, Ga.
Also, Southern Wesleyan employees were busy during November decorating the campus inside and out for upcoming holiday events. On Dec. 1 at 7:30 p.m., the university presents Sounds of the Season, featuring the SWU wind and jazz ensembles. On Dec. 5 at 7:30 p.m., the university will hold a Service of Lessons and Carols. Both events are located in the Newton Hobson Chapel and Fine Arts Center on the university's campus in Central. Admission is free and the public is invited to attend. For details, call (864) 644-5404.