Lankford receives Music scholarship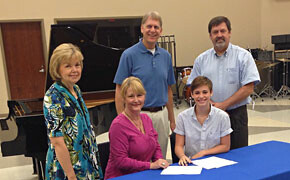 Ariail Lankford (seated) signs a letter of intent to SWU's Department of Music, where she will enroll in the fall of 2014. She is joined by (from left) Jane Dill, chair of the university's Fine Arts department; Donna Niles, Ariail's mother; (seated) Todd Voss, SWU president; and Prof. Gregory Day, director of bands at SWU.
Ariail Lankford will participate in the instrumental ensembles as she prepares to earn her degree in Secondary Music Education at SWU, a National Association of Schools of Music (NASM) accredited institution.
Lankford is a graduate of Easley High School, where she participated in all facets of the band program including Symphonic Band, Marching Band and the jazz ensemble and pep band. Ariail was the Drum Major in 2013 and was also a six-time member of the Pickens County Honors Band, and a four-time member of the Region 1 Honors band. Ariail will also participate in the SWU Women's soccer program.
The music scholarship is renewable and open to students who are active in their school's music programs and Southern Wesleyan students involved in each of the university's three performing groups. For details about music ensemble scholarships being offered at Southern Wesleyan, contact Gregory Day at , (864) 644-5414; or Don Campbell at , (864) 644-5402.