Lazenby named Teacher of the Year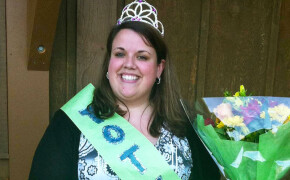 Amber Lazenby, a fifth-grade teacher at Hephzibah Elementary School and a recent Southern Wesleyan University graduate, was named the school's 2013-2014 Teacher of the Year.
Lazenby feels honored that her peers selected her for the award, given to teachers who demonstrate a passion for teaching and leadership. Lazenby's teachers inspired her throughout her years as a student.
One of those teachers was a seventh-grade language arts teacher, a theater major, who regularly performed for her students.
She also has fond memories of her high school art teacher.
"I'm not an artist, but I saw her caring and compassion for children and I knew it was something I wanted to do," Lazenby said. A teacher of science and social studies, she often engages her students through games – variations on Jeopardy or Four Corners that make learning both effective and fun.
Lazenby earned her master of education degree from Southern Wesleyan in 2012. She also has a bachelor's degree in early childhood education from Brenau University.
She found an environment at Southern Wesleyan's North Augusta education center full of supportive classmates and professors.
"We were family. We were able to bounce ideas and talk about our day. All of us were there to support each other and give each other ideas," she said.
A sentence on Lazenby's website says it all about her commitment to her students:
"I love teaching kids because I am molding our future. To know that I have taught at least one person how to be an excellent citizen is amazing to me!"
Southern Wesleyan University is a Christ-centered, student-focused learning community devoted to transforming lives by challenging students to be dedicated scholars and servant-leaders who impact the world for Christ. For details about degree programs, go to swu.edu.