Making spiritual connections at SWU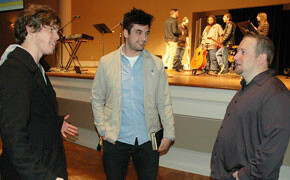 Will Henderson, left, and Travis Hayes, center, chat with Heath Mullikin after a worship service during Spiritual Emphasis Week at Southern Wesleyan University.
Rev. Mullikin was the featured speaker for Spiritual Emphasis Week, which took place Jan. 28-30 at Southern Wesleyan University in Central. A 1997 SWU graduate, Mullikin is senior pastor of Oakway United Wesleyan church in Westminster and a co-host of The Techology Show, a weekly podcast. Using an analogy of computers and video games, Mullikin suggested that Christians sometimes need to "reboot" to renew their spiritual lives. Hayes and Henderson are senior youth ministry majors, both from Brevard, N.C. Near the beginning of each semester, the university conducts spiritual emphasis services, providing a time of spiritual examination and growth.