Meet the new Warrior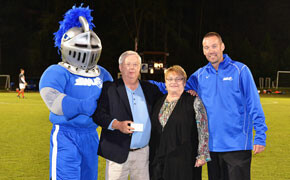 On Oct. 25, the new Warrior mascot made his debut during the Men's Soccer game. Bob Cooley, who was the original mascot in 1970, "suited up" as the new mascot. On Oct. 26, Athletic Director Chris Williams, right, honored Cooley and his wife Norma, as well as members of the Wood and Thomas families, whose support made the new mascot possible.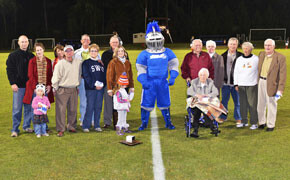 Members of the Wood and Thomas families were recognized during a dedication for the new Warrior mascot. Pictured from left are Chad Perry, Ashley Perry; Celia Perry, Kim Wood, Don Wood, Pete Wood, Sally Wood, Dan Wood, Kelly Wood, Charlotte Perry, the Warrior mascot, E.B. Thomas, Mary Will Thomas, Paula Crook, Frank Crook, Christine Wood and P.B. Wood. The families have been long-time supporters of SWU athletics and helped make the mascot possible.
A muscular new warrior who embodies Southern Wesleyan University Athletics' new look, made his debut Oct. 25 at the university's Central campus.
Suiting up for the debut was Bob Cooley, no stranger to SWU athletics. It was Cooley who was the original warrior mascot when Southern Wesleyan University, known in 1970 as Central Wesleyan College, entered intercollegiate athletics. Cooley was honored, along with his wife Norma during the Homecoming soccer game Oct. 26.
According to Chris Williams, director of athletics, the mascot was dedicated to honor the service of Dixon Wood, P.B. Wood and Mary Will Wood Thomas. The new mascot was made possible through financial gifts from members of the Wood and Thomas families and their friends.
Family members present for the dedication were P.B. Wood and his wife Christine; E.B. and Mary Will Thomas, sister of P.B.; along with their daughter, Paula Crook and her husband Frank Crook; Don and Sally Wood; their son Pete Wood and his wife Kim; and Dan Wood, along with his wife Kelly. Pete's daughter Ashley Perry was there with her husband Chad and their children, Celia and Charlotte.
Family members were praised for their involvement in SWU throughout its 107 year history. P.B. was praised for his numerous leadership roles for more than 40 years, which included growing and championing Warrior athletics since its inception in 1970. The Wood family was also recognized for their "joyful commitment" over the years of "nurturing and caring" for hundreds of students.