NCATE reaffirms SWU Special Education program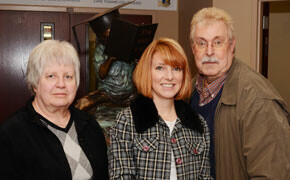 NCATE reaffirmed SWU's special education program with no conditions. Providing leadership was Sandra McLendon, left, dean of Southern Wesleyan's School of Education; while Jennifer Wagner, assistant professor of special education, center; and Harold Waters, professor of education, coordinated the reaffirmation process.
The National Council for Accreditation of Teacher Education (NCATE) reaffirmed the special education program at Southern Wesleyan University for another seven years.
According to Harold Waters, professor of education at Southern Wesleyan, the university met all required standards and was approved with no conditions. Waters explained that an institution's special education degree program may be considered by NCATE according to how it meets standards. Sometimes an institution is reaffirmed, but NCATE identifies conditions that must be addressed.
"Because we're members of NCATE, we have to submit a SPA (Specialized Professional Association) report to these groups," Waters said. "Ours for special education is the CEC (Council for Exceptional Children)."
Sandra McLendon, dean of Southern Wesleyan's School of Education, stated that the reaffirmation is part of their ongoing work to ensure a higher quality of preparation for teachers entering special education.
"This is why we go through these assessments – to make sure that our program produces the best quality special education teacher that we can," McLendon said.
Southern Wesleyan University's BS in special education degree prepares students for PK-12 multi-categorical, a teaching certification for children with mild to moderate disabilities. Waters said that special education graduates become highly qualified under the No Child Left Behind regulations to teach the learning disabled, intellectually disabled, behavior and emotionally disabled, autistic and those with traumatic brain injury.
"We have multiple opportunities for students to go out into the field in different age ranges. For instance, elementary, middle and high school, whereas not all of the other universities give their students that many opportunities in the wide range of opportunities and settings that Southern Wesleyan does," said Jennifer Wagner, assistant professor of special education.
McLendon added that the School of Education is also part of Project Create, a federally-funded scholarship program for existing certified teachers to become certified in special education.
With regional education centers conveniently located across South Carolina, as well as fully online programs for select degrees, Southern Wesleyan University is a Christ-centered, student-focused learning community devoted to transforming lives by challenging students to be dedicated scholars and servant-leaders who impact the world for Christ. For details about degree programs, visit swu.edu.