'Never the Same' camp comes to SWU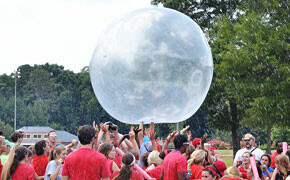 A giant beach ball makes its way across the crowd in the midst of a cooling spray of water on a sunny afternoon at "Never The Same Camp," taking place July 21-25 at Southern Wesleyan University in Central.
More than 600 Wesleyan youth from several Southeastern states converged on Southern Wesleyan University's Central campus July 21-25 for "Never the Same" camp.
Southern Wesleyan was one of five locations for the 2014 camps taking place across the nation. NTS Camps exist to see transformation in the lives of students, preparation for youth ministries, and connection that synergizes youth ministries and their church. NTS is a strategic partnership with the local church to see change happen on three different levels: student transformation, youth ministry preparation and local church connection.
Steve Norman, lead pastor of Kensington Church – Troy campus in suburban Detroit, was the featured speaker. Norman worked as director of Kensington's High School program for four years before planting a church focused on developing emerging leaders. Eric Bledsoe, a Nashville-based worship leader, songwriter and speaker, led musical worship.
Details can be found at ntscamp.com.