New chapel and fine arts center tunes up at SWU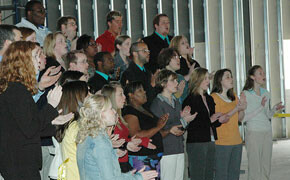 Southern Wesleyan University's choir performs in the new facility, which is still under construction.
Students, employees and board members of Southern Wesleyan University gathered at the Newton Hobson Chapel and Fine Arts Center construction site April 8. The group celebrated the progress on the building, which is scheduled to be complete in August.