New SWU students mark start of spiritual journey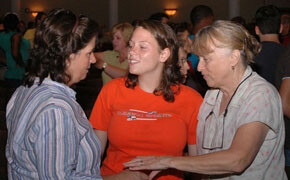 Amanda Robinson, center, of Clemson receives a medallion from her mother Janet Robinson, left, and grandmother Ruth Gardner.
New students at Southern Wesleyan University participated in a Passing the Mantle ceremony, joined by family members, university faculty and staff, Aug. 14 at Newton Hobson Chapel on the university's campus in Central. The ceremony takes place at the beginning of each semester and celebrates new beginnings in the spiritual and academic journey of incoming students.