Polishing career skills
Malcolm Burgess of S&K Menswear demonstrates how to select a jacket that fits properly during Southern Wesleyan University's second annual Etiquette Workshop and Dinner, at the university's campus in Central, April 8 at Founders' Hall.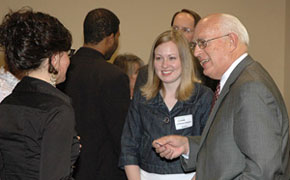 Burgess, along with Dyan Webb, owner of Corporate Communications of Greenwood, S.C., gave presentations to seniors about proper ways for job candidates to themselves at interviews. Advice ranged from how to dress to details such as handshakes. At left, SWU president David Spittal helps SWU seniors Amanda Kinney, left, and Brittany Koppen work on their networking skills. The workshop concluded with a dinner, in which Webb demonstrated how following rules of etiquette can make a positive impression. Sponsors for the Etiquette Workshop and Dinner included the Mentor Committee of the SWU Alumni Board, Aramark Food Services, Conference Services at SWU, Carolina Ad Specialty, S&K Menswear and Interview Stream.