Powdersville Business Council holds golf tournament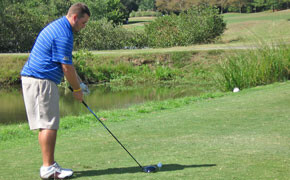 Zachary Moore, a member of the Southern Wesleyan University golf team, tees off during the Powdersville Business Council Golf Tournament, which took place Sept. 30 at Southern Oaks Golf Club.
Moore is a freshman from Orlando, Fla., majoring in media communication. Members of the Warriors golf team sold long drives on a par 5 for the tournament teams to use. The tournament's purpose is to promote business growth in the Powdersville area and to network with fellow Upstate business people. This year's tournament attracted 16 teams, surpassing last year's participation level. The Powdersville Business Council is part of the Easley Chamber of Commerce.