Rams, Smith enjoy final ride together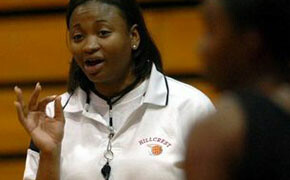 One last go-around: Hillcrest girls head coach LaCheryl Smith is in her final year at the helm. (BART BOATWRIGHT/Greenville News)
By Bob Castello
STAFF WRITER - The Greenville News
SIMPSONVILLE -- LaCheryl Smith has been a member of Bethlehem Baptist Church in Simpsonville all her life, so the Rev. Phillip Baldwin, the pastor, has a pretty good take on Hillcrest's girls basketball coach.
"She's very dedicated at what she does. It's beyond just a sport or something she does for recreation," Baldwin said. "She's dedicated not only to winning ballgames but to the young people that she works with, certainly beyond just doing the right thing on the basketball court."
Don't misunderstand. A lot of good things have happened on the court during Smith's four-plus seasons as the Rams' coach. Hillcrest had a record of 61-39 in her first four years, and the Rams are 11-1 this season, fresh off the championship of the Lady Sandlapper Tournament.
Her players believe more good things will come.
"This is our last year," senior guard Ashley Cooley said. "We want to take it all the way."
A trip to the state final in Columbia would be a far cry from the memories Smith has of her days at Hillcrest. During her three varsity seasons, ending in 1991-92, the Rams won 13 games.
"For me, it's a little more than just being at a school," Smith said. "It's where I was born and raised; it's where I grew up, so to be able to come back and do those things means much more to me than when I coached at any other school.
"At Hillcrest, boys basketball had the tradition. Boys basketball dominated, and girls basketball was never a factor. Now that's changed. The boys and girls are both good. People are talking about girls basketball. They're excited about girls basketball. That's what I always wanted to see."
Smith, a Fountain Inn native, talks about this season as "special," about it being a "journey," and she knows the journey will end within a couple of months. In fact, her association with her alma mater -- at least for the foreseeable future -- will come to an end.
In May, Hillcrest principal Steve Chamness informed Smith that he would be seeking a coach who would be on the high school's faculty or staff, that Smith, the director of women's basketball at Potential Sports Academy, would no longer be the coach.
Smith asked if she could coach for one more year, citing her close relationship with her seniors. Chamness said about three weeks after that, he informed Smith that he "did not have the possibility of hiring a quality person on staff right now, and there's no sense in drawing this out ... so you need to proceed with the assumption that you're going to be the coach."
"My first priority is to have my coaches in this building," Chamness said. "If that is not possible, my second priority is to have coaches who are employed by the Greenville County School District as close as possible to this building. And then lastly, if we just can't find anybody, it would be adjunct coaches who work in private business. There are some very legitimate reasons for that desire. It eliminates a lot of problems when your coaches also work for you. ... LaCheryl's a good coach. That's never been an issue."
Smith has a close bond with her seniors, particularly the four who have been playing together since the seventh grade. Guards Cooley and Brittany Watts and forwards Kiana Rainey and Tre Walk led Bryson Middle School to a 17-0 record when they were in the eighth grade.
"When I used to watch them in the seventh and eighth grade, I called them my state championship team," Smith said. "I said, 'By the time they get to Hillcrest and they're juniors or seniors, we ought to be real good.' "
Tim Valentine, Smith's assistant since her arrival as head coach, said the first time he saw the group play in middle school he was amazed.
"It really blew my mind to see, first of all, their athleticism, and then their knowledge of the game at that age," Valentine said.
They have disappointed neither Smith, Valentine nor Smith's other assistant, Kendrick Rainey, Kiana's brother and another former Hillcrest player.
Kiana Rainey, who has signed with UNC Asheville and was chosen one of the state's top five players, leads the Rams with averages of 13 points and seven rebounds per game.
Senior center Ketorria Smith, a vocal leader who transferred from Laurens before her junior year, rounds out the starting five. Smith, who has signed with USC Upstate, is second at 9.8 points per game.
Rainey was just the third Hillcrest girls basketball player to sign a Division I scholarship, joining Uzzie Cannon (Appalachian State, 1990) and Amanda White (Clemson, 2002).
Smith said Cannon was the first girls basketball player at the school to get a full scholarship to college, and Smith was the second, earning a scholarship to Southern Wesleyan in 1992. Between then and Smith's arrival as coach, she said two players signed scholarships; since then, eight have signed.
Before Smith's arrival as coach, only two Hillcrest girls played in the North-South all-star game. Since then, the Rams have had a player in the game each year.
But those are on-the-court feats. Asked what Smith has meant to the program, Walk said, "Everything."
"Any problem you have, you can talk to her," Walk said. "She won't judge you or anything."
"She's with us every day," Cooley said with a smile. "She knows more about us than our own parents."
Valentine, likewise, pledges his allegiance to Smith.
"Our girls look to her as more than a role model and a mentor," he said. "She's like another mom. So, as a coach, I just want to give her my all this last year. She's helped me become a better man, a better parent and a better coach."
For her part, Smith said she's confident this team will make her proud, regardless of the ending.
"I don't know what the future holds for us, or how far we'll go, but I can say thus far, it's been a very enjoyable season," she said. "They have definitely stepped up to the challenge."
Cooley claimed to be a little less uncertain about the Rams' future.
"I think we know where we're headed," she said. "We're headed for Columbia."