Remembering Martin Luther King Jr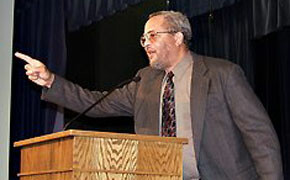 Southern Wesleyan University commemorated Rev. Martin Luther King Jr. in a special chapel service Jan. 18 at the university's main campus in Central.
Rev. Carl Ellis, right, was the guest speaker for the service. Ellis is president of Project Joseph in Chattanooga, Tenn., and an adjunct faculty member of The Center for Urban Theological Studies in Philadelphia. Juanita Webb and her daughter, Pam, of Snow Hill Baptist Church in Fair Play provided music for the service.