Retired SWU professor hosting Italy Tour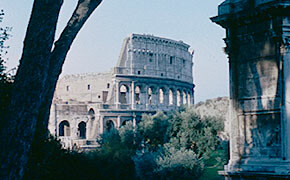 The Coliseum and other Roman landmarks are among several stops on an 11-day tour of Italy, hosted by retired SWU Religion Professor Dr. Jim Bross.
Experience the beauty and rich history of Italy, spending 11 days touring the peninsular nation's most iconic spots, including Venice, Florence, Sorrento, Pompeii and Rome, the "Eternal City." The trip, to be hosted by retired Southern Wesleyan University Religion Professor Dr. Jim Bross and Rev. Phill Nall, minister of education at First Baptist Church of Tucker, Ga., is planned for Oct. 30-Nov. 9.
"After three trips to Italy, I still find the country with its art and history fascinating," Bross said. "There is much to be explored related to the New Testament and to church history, my major area of study." For details, contact Bross by emailing or call (864) 639-6390.