Retiring SWU professors to speak at graduation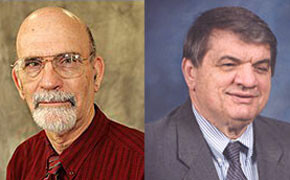 Graduation speakers: left, Dr. Martin LaBar right, Dr. Robert McDonald
After years of educating Southern Wesleyan University students, two retiring professors will be featured speakers at the institution's graduation ceremonies Dec. 11.
Dr. Martin LaBar Dr. Martin LaBar, professor of science, will speak at the morning graduation and Dr. Robert McDonald, social sciences division chair, will speak at the afternoon ceremony. Southern Wesleyan University students will receive associate's, bachelor's or master's degrees at the university's graduation ceremonies, according to Registrar Rock McCaskill.
"I have taught here for many years, and believe that God led me here," LaBar said. "I try to teach as if every student is vitally important."
LaBar earned his B.A. with a double major in biology and chemistry-physics and a minor in math at Wisconsin State University, Superior; his M.S. in genetics from the University of Wisconsin, Madison; and his Ph.D. in genetics and zoology at the University of Wisconsin, Madison.
He has been a member of the Southern Wesleyan University faculty since September, 1964. At his first faculty retreat, he heard that another faculty member was beginning her 40th year at the institution.
"I said to myself, but to no one else, 'God willing, I'll teach here 40 years.' I have done so now," LaBar said.
LaBar's work has appeared in several publications, including "The Wesleyan Advocate," "Journal of the American Scientific Affiliation" and "Scientific American." He served as the chair of science at Southern Wesleyan from 1964 until July 2003 (except for a year he was on sabbatical) and has served on various faculty and staff search committees and planning committees.
In addition, LaBar has obtained several grants for Southern Wesleyan, including a grant to purchase SWU's first academic computer, an Apple II. He is currently a member of United Wesleyan Church in Easley, where he is a Sunday School teacher and on a local board.
During his duration as a professor at SWU, Dr. LaBar has taught botany, zoology, ecology, bioethics, immunology, animal behavior, fundamentals of math, introduction to computers, algebra, physical science, computer ethics, genetics, biology, physics, desktop design and biology seminars.
Dr. Robert McDonald McDonald sums up his years of teaching at Southern Wesleyan as "more of a learning experience for me than for the students I've taught.
"To get an opportunity to teach disciplines that you love and to share your Christian faith is academic freedom at its best," McDonald said.
McDonald earned his B.A. in arts and science with majors in recreation administration and sociology and minors in health and physical education at the University of North Carolina at Chapel Hill. He went on to earn his M.A. in education administration at Furman University in Greenville. He completed his Ed.D. with majors in recreation and leisure studies and minors in sociology and higher education administration at the University of Georgia, Athens.
He has been a member of the Southern Wesleyan University faculty since June, 1988. Since that time, he has served as a professor and coordinator of studies in recreation and criminal justice. Since 1999, he has also served as chair of the division of social sciences.
He, along with Dr. Keith Connor, developed majors and minors in recreation and sports management during his tenure at SWU. His teaching duties have included sociology, anthropology, recreation, statistics and research. He has been published in various scholarly journals, including "Therapeutic Recreation Journal," "Journal of Leisure Research" and "Omnibus."
He is the author of "A Therapeutic Recreation Program for the Mentally Challenged" and the capstone chapter in a textbook "Confronting Child Abuse." He has made presentations and led seminars and workshops at many professional conferences.
McDonald has been recognized with many awards, including SWU Faculty Member of the Year and S.C. Governor's Distinguished Professor Award.
The university will have two separate graduation ceremonies at Walden Tysinger Gymnasium. The 10:30 a.m. ceremony is for graduating students from the university's Central and Greenville locations earning associate's, and bachelor's degrees, and for students from all locations earning Master of Science or Master of Ministry degrees. The 3 p.m. ceremony is for students from the university's Charleston, Columbia and North Augusta locations earning associate's and bachelor's degrees, as well as for students from all locations earning Master of Business Administration or Master of Education degrees.
The university will confer about 430 degrees, according to McCaskill. The average age of the graduates is 38, he said.
For details, call Southern Wesleyan University's Academic Records Department at (864) 644-5530. Tickets, issued through the university, are required to attend graduation.