Riverside names SWU grad 'Teacher of the Year'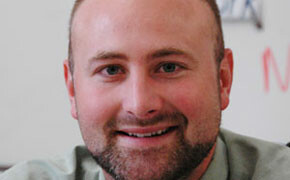 Justin Petersen, a 2004 education graduate from Southern Wesleyan University, has been named Teacher of the Year for 2007 at Riverside Middle School in Pendleton.
Petersen is a seventh-grade social studies teacher in his fourth year at Riverside. Although Peterson earned his degree in elementary and early childhood education at SWU, he accepted the challenge to teach in a middle school. Since then, Petersen hasn't looked back.

For Peterson, who played on the Warriors men's basketball and soccer teams as a student-athlete, teaching and coaching go hand-in-hand. He currently coaches boys' basketball at Riverside, varsity girls' soccer at Pendleton High School and is assistant women's soccer coach at Southern Wesleyan University.

Petersen's career choice was influenced by watching his mother teach and helping his younger brothers and sisters with schoolwork. He learned about SWU at a basketball camp in Tennessee when he met Coach Charles Wimphrie, who invited him to visit the campus in Central.

"The education department, as a whole, cares about its students and did a good job preparing me for my field," Petersen said, adding that Drs. Harold Waters and Fred Woodworth both made a huge impact in his life. It was also easy to get to know most of his classmates. Petersen met his wife Beth ( Irvine) while attending SWU.

Peterson is humbled by the honor given him by his peers, and is quick to point out that many of his Riverside colleagues could be named Teacher of the Year.